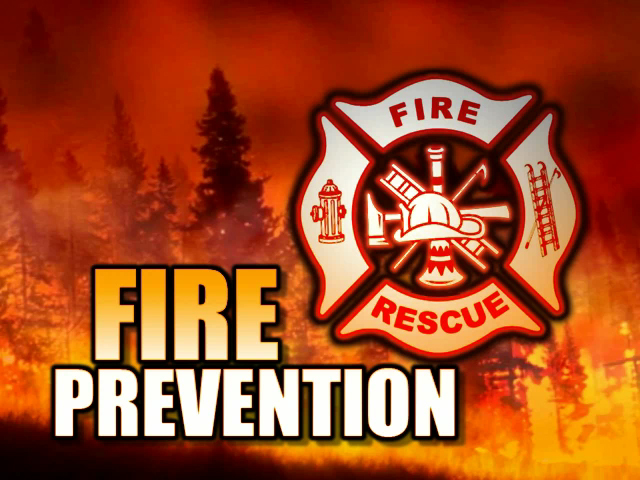 Be a home fire escape planner
Download our home fire escape plan (PDF, 844 KB), and mark a door and a window that can be used out of every room.

Make a map of your home

(PDF, 632 KB). Mark a door and a window that can be used to get out of every room.

Choose a meeting place outside in front of your home. This is where everyone can meet once they've escaped. Draw a picture of your outside meeting place on your escape plan.

Write the emergency telephone number for the fire department on your escape plan.

Have a grown-up sound the smoke alarm and practice your escape plan with everyone living in your home.

Keep your escape plan on the refrigerator and remind grown-ups to have your family practice the plan twice a year or whenever anyone in your home celebrates a birthday.
Smoke alarms and home fire escape planning
If there is a fire in your home, there will be smoke.

A smoke alarm will let you know there is a fire.

A smoke alarm makes a loud noise – beep, beep, beep.

When the smoke alarm sounds, get outside and stay outside.

Go to your family outside meeting place.
When you go home today, be a smoke alarm detective
Ask a grown-up to show you where the smoke alarms are in your home.

Ask a grown-up to test the smoke alarms to make sure they are working.
here are many ways to help Protect Your Family From Fire. NFPA ofers these safety tip sheets.


Cooking (PDF, 171 KB)
Cooking fires are the #1 cause of home fires and home fire injuries


Escape planning (PDF, 444 KB)
Fire can spread rapidly through your home, leaving you as little as two minutes to escape safely once the alarm sounds.


Heating (PDF, 634 KB)
Half (49%) of all home heating fires occur in December, January and February.


Smoke alarms (PDF, 219 KB)
Smoke alarms that are properly installed and maintained play a vital role in reducing fire deaths and injuries.



Home fire sprinklers (PDF, 1 MB)


Sprinklers can save lives and property from fire by responding quickly and effectively.



Candles (PDF, 792 KB)
Candles may be pretty to look at but they are a cause of home fires — and home fire deaths.



Electrical
Make your home safer from electrical distribution or lighting equipment fires.




Smoking
Smoking materials (i.e., cigarettes, cigars, pipes, etc.) are the leading cause of fire deaths in the United States.



There are so many important messages in "It's Fire Prevention Week. Protect your Family from Fire!" that you'll need a whole month to get them all in. Use this day-by-day plan to make sure you and your family stay fire safe!
Day 1: Hunt for home hazards
Is your home fire safe? Download Sparky's Fire Inspection Checklist (PDF, 373 KB) to find out. Use the checklist to search for and correct any hazards in your home.
Day 2: Get Out and Stay Out
Use Sparky's fire escape planning grid (PDF, 632 KB) to develop (or update!) your home fire escape plan. Make sure that you mark two ways out of each room have a meeting place outside. And don't forget to practice!
Day 3: Sound the Alarms
Do the smoke alarms in your home work? The only way to know is to test them! Smoke alarms are an important part of a home fire escape plan. When there is a fire, smoke spreads fast. Working smoke alarms give you early warning so you can get outside quickly. Make sure your family's smoke alarms are in the right place and working properly (PDF, 219 KB). When the alarm chirps, make sure to replace the batteries!
Day Four: Show your Appreciation
Your local fire fighters work hard every day to keep your community safe from fire and still have time to come to the rescue when fire does strike in your community. Have you thanked them lately? How about a visit your local fire station to show your appreciation? Most fire stations will have special events during Fire Prevention Week. Check your fire department's website to get a schedule. Or just pop in to say "Thanks for all you do!"
Day Five: Say it with Sparky
What better way to tell family members you love them than by sending a super special Sparky card! You can "just say 'hi'" or send an "It's Fire Prevention Week. Protect your Family from Fire!" message.
Day Six: Practice makes Perfect
Now that you've planned your escape, practice it - again and again!! It's important that everyone in your family knows the drill. When you do your fire drill, practice getting low and going under the smoke to your exit. Make sure to practice your escape plan (PDF, 632 KB) at least twice a year, day and night!
Day 7: Read All About it!
Sometimes it's nice to just sit back and read the comics. Especially when they star Sparky and his friends!
Day 8: Stay Ahead of the Game
It's the bottom of the ninth inning and Sparky's team, the Safety Stars, are trailing the Danger Dogs. Can you help them with a come-from-behind victory? Play Safe with Sparky! and strike out home fire hazards.
Day 9: Your Safety Source
Want to keep up to date with the latest fire safety information for educators and families? Sign up for our monthly public education newsletter today.
Day 10: In Case of Emergency?
Do your kids know key information in the case of an emergency? Use Sparky's worksheet (PDF, 160 KB) to make sure they are prepared. Have everyone memorize the emergency phone number of the fire department. That way any member of the household can call from a neighbor's home or a cellular phone once they are safely outside.
Day 11: Hot Dog
Want a Sparky of your very own? Make one (PDF, 782 KB).
Day 12: Play away
Have fun playing a Sparky game of your choice!
Day 13: Hats off to fire safety
Make your own Sparky hat (PDF, 485 KB).
Day 14: Have you cracked the code?
Sparky has a secret message every month just for you.
Day 15: Learn something new
Check out NFPA's safety tips on home fire sprinklers (PDF, 1 MB).
Day 16: Discovery Challenge
Go to sparky.org and find his e-cards. How many are there? Send one to a friend.
Day 17: Check out the story of Sparky
See how Sparky became the dog he is today.
Day 18: Have you had your heating system inspected this year?
Check out our tip sheet (PDF, 634 KB) and find out more.
Day 19: Take a trip to the museum
That's Sparky's museum!
Day 20: Bookmark Bonanza
Who doesn't love a good bookmark. Print one out or color your own.
Day 21: Older friend or relative
Play trivia using Remembering When cards (PDF, 33 KB).
Day 22: Do you have a preschooler at home?
Listen to these great songs and get them thinking about fire safety.
Day 23: Visit your local fire station
Why not make cookies and bring them to the station. Color them a "Thank you to firefighters" card.
Day 24: Match Game
How many matches can you make?
Day 25: Slumber party safety
Is your child sleeping over a friend's house? Make sure they are safe.
Day 26: Make sure you test your smoke alarms every month!
Use this great calendar to remind you. (PDF, 228 KB)
Day 27: They say there is a poet in everyone
Read this Fire Prevention Week poem, BEEP, BEEP, BEEP, at dinner tonight.
Day 28: Play pin the badge on Sparky
Download Sparky and cut our his badges (PDF, 385 KB). All you need is some double sided tape.
Day 29: Party!!
Check out Sparky's party kit. Have a party with your friends and celebrate fire safety.
Day 30: It is almost here -- Fire Prevention Week.
How are you going to celebrate? Share with your friends and family some of things you learned while you were counting down. Happy FPW!!!!